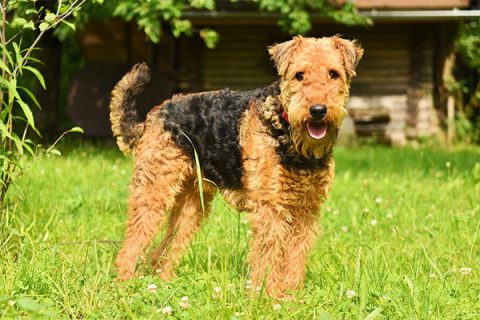 Thought for the Week
For Friday, August 6, 2021
His name was McArthur.  He was a saucy, self-assured, independent, adventurous Airedale. My sister and I were dog sitting him while his owners were on vacation.  One day, we put McArthur out in our fully fenced back yard.  We checked on him a few times and each time he was happily exploring the grass or sniffing for neighbor dogs.  But when we checked on him again, he was gone! Somehow our Houdini had squeezed his way through the side of the gate and was off exploring.
We knew we had to find him.  My sister and I split up, each taking a block, and then meeting back at the house to report.  We searched a large area of neighborhood but McArthur was nowhere to be seen.  Dreading the worst, we went several blocks to South Six Street, a very busy street in town.  We split directions.  After my sister had gone several blocks she saw cars swerving and heard horns honking.  There was McArthur running down the middle of the street! Deciding he didn't like the traffic, McArthur ran back to the sidewalk and down the block.  Seeing an open door of a business, McArthur ran inside.
My sister in hot pursuit followed McArthur down the block and into the building.  When she got in, she noticed it was dark with low lights.  A few people were sitting at tables or at a counter.
"Hey! Get out! You're too young to be here!" the man behind the counter shouted. Then my sister noticed a sign, "No one under the age of 21 . . ."
"My dog," she replied.  "Has anyone seen an Airedale?"  Someone pointed to McArthur hiding under a table.  Grabbing his collar, she snapped on a leash and dragged him outside.  By then, I had caught up and the two of us walked him home.
Like McArthur, we tend to want to go our own way on life's path, but I am grateful to our God who relentlessly pursues us and will never give up until we are home.
"O Lord, you have examined my heart and know everything about me . . . I can never escape from your Spirit! I can never get away from your presence! If I go up to heaven, you are there; if I go down to the grave you are there . . . even in darkness I cannot hide from you. 
Psalm 139:1, 7, 8, & 12 NLT
"Surely your goodness and unfailing love will pursue me all the days of my life, and I will live in the house of the Lord forever,"
Psalm 23:6 NLT
No matter where you are in life's journey or what you are facing this week, may you feel God's presence, knowing that however dark the journey, He is with you all the way.
--Tracy Weakly