Thought for the Week                                                                    January 14, 2022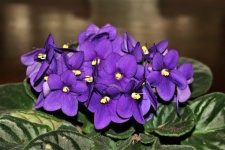 I enjoy the ambience created by the presence of house plants.  A tall Mass Cane plant in the corner reminiscent of the tropics, a Christmas cactus donning new blooms, the smell of Sweet Basil in the kitchen window—all bring a smile to my face and warmth in my heart.  Unfortunately, my horticulture skills don't provide me with that privilege very often. Most of my plants resemble "dried arrangements" and the best way for me to keep my plants green is to keep buying new ones.  My daughter even bought me a book, "How NOT to Kill Your Houseplants."
Once I had an African Violet. I placed it in my kitchen window where I could enjoy its beauty while I prepared meals and washed dishes. I began watering it from the bottom, rotating it frequently, and talking to it.  Unfortunately, my care, though well-intentioned, was sporadic.  Eventually, the plant stopped flowering and the leaves dried and curled.  It looked completely hopeless, another failure.  Despondently I picked up my plant, intending to throw it in the garbage when the phone rang.  I put the plant down on a low bookcase in the family room and ran to answer the phone. I completely forgot about my plant.
Sometime later, as I was dusting the family room, I discovered my African Violet on the bookcase where I had left it.  Seemingly forgotten, it was now covered with little purple buds just beginning to bloom.  Apparently, the low bookcase near a quiet window provided an optimum environment for my plant to grow. Joyfully, I began once again, to take care of it.  Even with my sporadic care, that African Violet survived for many years and I was always filled with joy and wonder every time it bloomed.
Sometimes, I feel like that African Violet. Other times it seems to represent my students, my family, or even our church. The situation may look completely hopeless.  It is then that God reminds me not to give up praying or caring.  God will arrange new opportunities, circumstances, and environments; and in His time, there will be healing and that which seems hopeless will grow and bloom.  
So, neither the one who plants nor the one who waters is anything, but only God, who makes things grow. The one who plants and the one who waters have one purpose, and they will each be rewarded according to their own labor. For we are co-workers in God's service. . . I Corinthians 3:7-9 (NIV)
The Lord says. . . I will be like dew to the people of Israel. They will blossom like flowers. They will be firmly rooted like cedars from Lebanon. They will be like growing branches. They will be beautiful like olive trees. They will be fragrant like cedars from Lebanon. Hosea 14:4-6 (GW)
This week, may you "grow in the grace and knowledge of our Lord and Savior Jesus Christ. To him be glory both now and forever! Amen."  2 Peter 3:18 NIV
--Serving Him
Tracy Weakly