For Friday May 14, 2021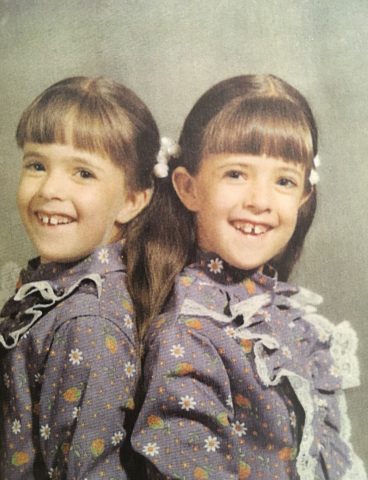 Being a twin has its advantages.  I always had a friend to play with, a person to study with, and a confidant to share the secrets of my heart.  But being a twin also has its disadvantages.  When we walk together and we are in step, people comment on our being too identical.  If we don't walk in step, we are out of sync with each other.  In step, or out of step, is there really a third option?  Then there are the twin questions.  My favorite is, "Are you sisters, or twins?" I always get a funny look when I answer, "Both."
In being a twin there is a certain unintentional loss of identity. When most people look at their childhood pictures they say, "there I am."  When I look at pictures when I was young, I say, "I am not sure which one is me.  Am I on the right or the left?"  People continually confuse us.  I remember when my academy typing teacher ended up giving us the same grade, because she had looked at the last name and threw out all the "duplicate" assignments. Once a teacher graded the two of us against each other and the rest of the class against each other, so we wouldn't throw off the bell curve.  When we got our braces off, our orthodontist put two pictures of my sister on the wall. I was left out. Not to worry though, when we graduated with our master's degrees, they discarded her picture, because they thought we were the same person.
Probably the most significant disadvantage is the use of names.  Sometimes we were called silly names like "Sunshine" and "Moonbeam", or "Peat" and "Repeat." I even remember at my baptism, the pastor said, "I now baptize, (pause), which one are you?" Most of the time, though people just said, "Hey twin," and pointed to the one they wanted.  Being called by my name was so rare, that as an adult, it took years for me to respond to my first name without looking to see who was being addressed.
I am glad that God knows my name.  He knows everything about me, yet He calls me His child. He even promises to give me a new name when I get to heaven. In Him I have my true identity.
"Do not be afraid, for I have ransomed you. I have called you by name; you are mine."
Isaiah 43:1 NLT
"And I will give to each one a white stone, and on the stone will be engraved a new name that no one understands except the one who receives it.
Revelation 2:17 NLT
May you find your true identity in our wonderful God who calls you by name.
--Tracy Weakly