Thought for the Week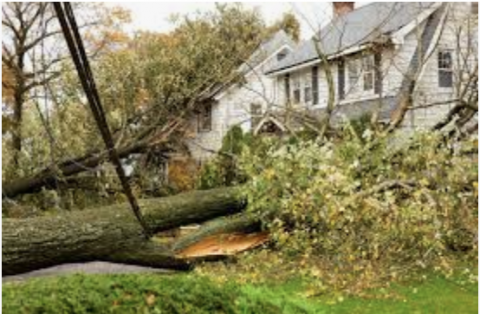 Ecclesiastes 3:12-14
The discouragement felt when you look outside and see limbs falling or even whole trees tumbled over by the weight of ice is, on one hand, a reminder of how God's creation struggles to endure and on the other hand a reminder of the reality that restoration will take effort, time, and an open mind to what the future holds.
In the great ice storm of 2021, many of us lost trees, limbs, power, and the ability to leave their homes because of where the limbs and trees had landed. At one point, for example, every resident of Oregon City was without power, at the same time. Many within our church family lost power, internet, and even the ability to drive into town due to down limbs. Some were excited to pull out the chainsaw, dust off the wood stove, fire up the generators, and run extension cords, while for others this created significant stress. When the power was restored again, for some over a week and others just one hour, we breathed a sigh of relief—even though cleanup still may have created a lengthy to-do list.
Whether it's a power outage, knocked-over trees, something as petty as the closing of a favorite restaurant, or something much more painful like the loss of a loved one, we find ourselves bombarded with reminders of the reality that in this lifetime the good things don't last forever. At the same time, to be fair, for the bad things, too, there is a promise that they don't last forever. What do we do with this? What keeps our eyes above the fog, so to speak? Do we allow ourselves to become so self-absorbed that any change that affects us negatively is destructively directed toward us? Do we allow our hearts to harden and become indifferent toward the passing of time and the brokenness that occurs there? Do we become insistent on doing things our own way in order to ensure some feeling of comfort in being in control?
This world is a mess because we are messy people. Each of us has a duty, one that we all have difficulty doing when the branches around us are falling—this duty is for us to look within, guided by the loving power of the Holy Spirit, and to take responsibility or ownership for the times we've fallen short of the image He sees in us and trust Him with the process of healing while He guides us forward. I'm convinced this is a real part of the abundant life Jesus offers us, and with it, the reality that God has promised to continue His work in us until Christ's return—He's not finished with us yet.
Much love,
Pastor Blake